In 2006 stormwater treatment in New Zealand was turned on its head. The Up-Flo Filter was introduced to our shores to help us better protect our precious waterways.
The Up-Flo Filter is an attractive option for stormwater treatment
Up Flo Filters have a smaller footprint than many other stormwater treatment devices, and maintenance is easy and fast when performed by experts. Up Flo Filters are one of the few devices approved by Auckland Council to treat stormwater.
Up Flo Filter water treatment is highly effective at removing:
Total Suspended Solids
Total Petroleum Hydrocarbons
Zinc, Copper, Lead
Litter
The way an Up Flo Filter works is an example of simple genius!
However as you can see by the diagram of this Up Flo Filter, efficient performance is dependent on well maintained filter bags and mathalas. That's where we come in!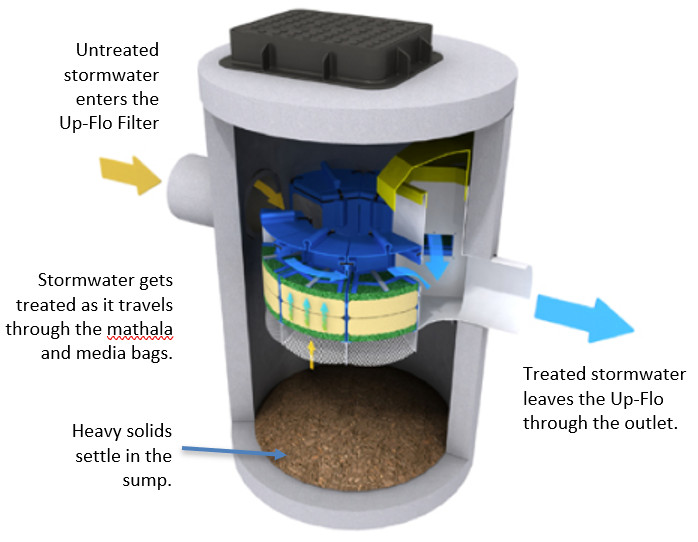 If you have an Up-Flo Filter at your site,call us to come and check if it has been correctly commissioned! Commissioning means it will have filter bags and mathalas, in good condition.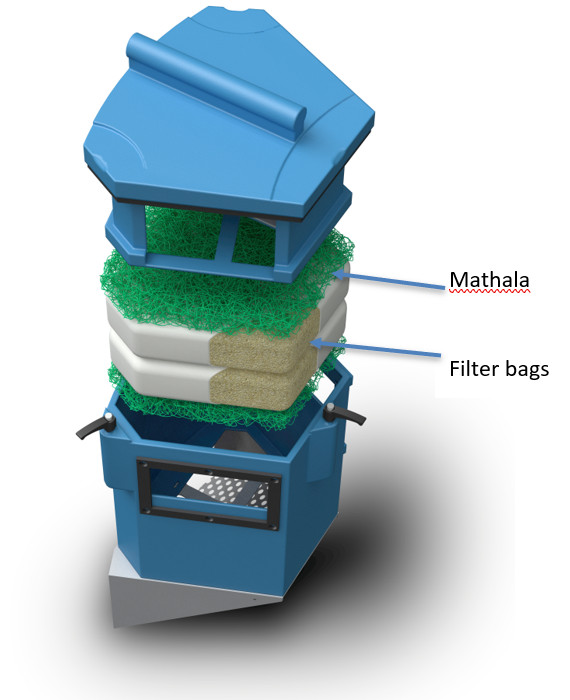 From that point on we will take care of the whole process to ensure your Up-Flo Filter performs well, to help keep our ocean cleaner! We will also be able to demonstrate that you are compliant with relevant resource consent conditions. We will:
Give you a free maintenance proposal for the maintenance of your entire site.
Book a time to come in and service your Up-Flo and other stormwater devices.
Give you a full report for you to keep on file for Council, should they wish to see it.
What you can expect when we service an Up-Flo Filter:
We will complete all necessary health and safety paperwork
We will remove all sediment, litter and rotting vegetation by vacuum truck
We will remove spent media packs and wash the modules down
We will vacuum the chamber again
We will replace the media packs
We will dispose of polluted waste at an approved disposal facility
We will send you a full report.
For an example of our work, the photos below show Up-Flo Filters before and after they were serviced.
Please call us to find out if your up-flo is commissioned, or is due for a service.